LOAD LIFTER MANUFACTURING LIMITED
SERVICE BULLETIN
SB14-11-008 Nov-14
SUBJECT: PS 750 MK IV transmission filter
EQUIPMENT: All Load Lifter manufactured 2400D Power Shift machines from serial number 3512 and thereafter. All machine affected to date are listed by serial number below.
3512 3515 3520 3521 3522 3554 3546
3548 3549 3551 3566 3570 3587 3589
3600 3604 3616 `3624 3628 3629 3630
3635 3643 3660
The correct filter for the PS 750 MK IV transmission is Load Lifter part number 160459 which is 120 mm long and should not be substituted with Load Lifter part number 107228 which is 95 mm long.
Filter part number 107228 can be used on all Load Lifter machines built with the shuttle shift transmissions and the PS 750 MK III transmissions.
The PS 750 MK IV transmission can be identified by looking at the solenoid configuration. For easy reference, a picture showing this solenoid configuration is shown in Fig. 1 below.
RECOMMENDATION: That the transmission filters on all Load Lifter 2400D Power Shift machine from serial number 3512 and thereafter be checked that the correct filter is being used.
The filter can be verified by installing a new filter part number 160459 purchased from Load Lifter Manufacturing Ltd or by measurement to verify the dimension of 120 mm.
That this information be brought to the attention of all personnel in the service and parts department immediately.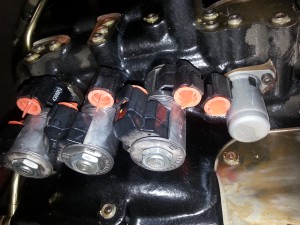 PS 750 MK IV Solenoids
END
Issued by Loadlifter Manufacturing Limited 3 Anderson Blvd, Stouffville, Ontario. This information is correct at the time of print. This bulletin is for technical information only and cannot be used for any claim including but not limited to warranty.